Testing is in the Air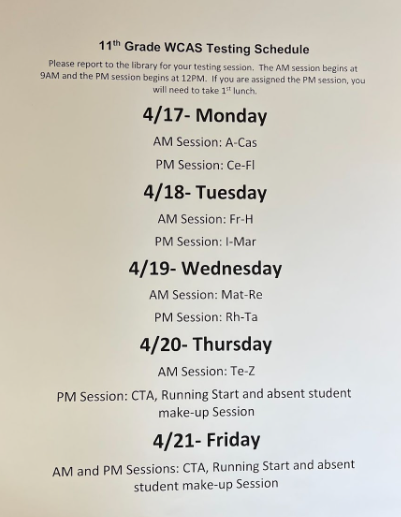 State-wide science testing was held beginning on Mar. 17, 2023, and lasted all week for the juniors at Prairie High School.
The Washington Comprehensive Assessment of Science (WCAS) testing is a graduation requirement for every junior to take, although passing the test is not. The test is taken by students to assess their learning growth and progress within the educational system. Testing in general has a history of giving students anxiety, even though the science test isn't something that can affect the student. Junior, Madelyn Lewis, shares her experience, "tests give me a lot of anxiety already, so knowing that we had to take this really stressed me out."
Students went into the library which is where the testing was held. Testing sessions were divided by AM and PM which were determined by last name. Students would get pulled out towards the end of the class periods prior to their testing time, this affected some student's schedules and some had to switch lunches so they could make their scheduled session.
Some students aren't particularly fond of this because it made them fall behind in work for the classes they missed or had a test that was supposed to be taken that day. "The testing was fine, but I just wish that my teachers didn't have tests on those days because I had to stress about taking it either after school or during a different time. Since I go to Clark College for running start, it was difficult for me to find a time for it," shares junior Mubina Mohamed.
Technically they had four days for scheduled testing and Friday was for makeups. The juniors finished all the required state testing which means they don't have to worry about any future testing.