Halfway Through Prairie's Boys Soccer Season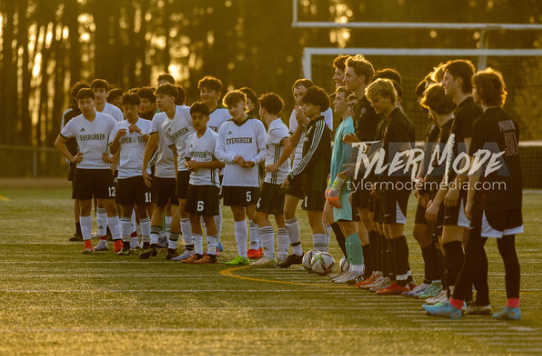 Prairie High School's boys soccer team has competed for their way into 2nd place in the GSHL 3A conference with 8 games of the regular season to go. 
This year the boy's soccer program has 2 teams and 35 boys rostered in total, while last year they only had enough to roster one team. The coaches are Jason Staley as head coach and Ryan Glaser as an assistant and JV coach, varsity team captains are Trent Harker and Grayson Allen. So far in the boy's soccer season, they are 5-2 overall, and in the conference, they are in 2nd place with a record of 3-2. 
Senior captain Trent Harker says, "We are playing much better as a unit than any other year I have played." And to describe how they have been playing this year he said,  " We have been doing great moving as a unit attacking and defending, and because of this our defense is hard to break down. And possession has improved a lot this season."
The team has run into a couple of struggles so far this season. One struggle is that they have to play 8 games in 19 days, not giving a lot of time for training or recovery. Assistant coach Ryan Glaser said, "Balancing this time will be key for the coaches." Another struggle is "keeping their heads up," says Trent Harker. The team has been working on keeping their heads up and it's something they plan to improve on throughout the season. 
A player that has stood out to coaches is Liam Blanton, they mentioned that he has been crucial at the center back position and is able to read the game and shut down top players on the opposing team.
The boys have 8 games left and would love for people to come out and support them.