Girls Basketball Almost Wins League 22-23 Season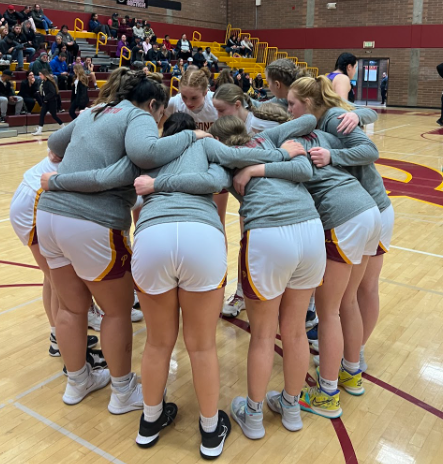 The Falcons Girls' basketball team went 11-10 this season and 6-2 in the league. Making them 2nd place in the 3a GSHL. Their season came to an end on February 14, 2023, when the team traveled up north to play Gig Harbor where they played Gig Harbor and lost in the second round of playoffs.
When asked how she thought their season went Senior Captain, Maddie Clouse said "The season went good but there were a couple of downsides, we didn't get to go on our winter break trip to Arizona due to weather and I got hurt in our last league game and couldn't play in the first playoff game." She mentioned that her favorite memory from the season was traveling with the team up north, even though they lost it was a lot of fun spending time with everybody. Junior Starter, Claire Smith says "I think the season went pretty well, being 2nd in our league was awesome and something not many people or teams saw coming! I am proud of us and how far we got." She also talked about how most of the team was seniors and it's going to be very different next season.
Mike Smith, also known as Coach Smitty, said they faced some challenges like girls getting sick with the flu and missing many practices. He said his team had a good bond with no major drama. As for next season, he hopes to build on what they've done this year. He hopes to have a successful next season and make it farther in the playoffs than this season.