Prairie's Girls' Swim Team 2022 Season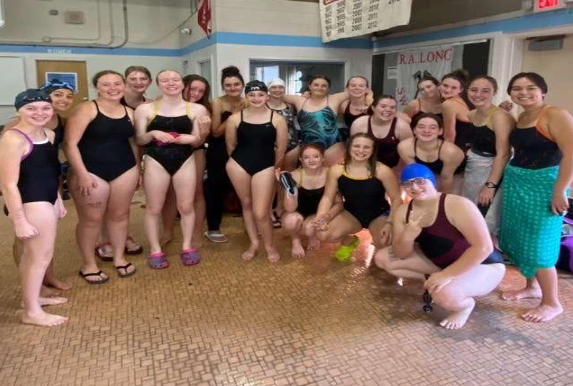 After a great season, the Prairie girl's swim team cheered in support of a fellow teammate Kenzy Ward on November 10, who went to the state competition after a season full of hard work and dedication.
Kenzy Ward has been on the swim team for all four years of high school and has been swimming personally for about 8 years. Her goal for her final year was to make it to state, and she qualified while swimming the 100 butterfly. "I went a 1:03 with districts, and I got second place so that's how I went to state," said Ward. "If you place either first or second at districts then you go to state."
 She talks about what she would take away from her last high school season, and that is "to never give up. It was really bittersweet because I'm sad that it's my final season, but I ended on a good note."
Nikki Benjamin is another athlete that has been involved in Prairie's swim team for four years. When asked how her season went personally, Benjamin said she's "gotten personal records, or PRs, in every event which is good because I took a year off my sophomore year to manage the team." She also keeps social media informed on how the team is doing by posting on the Prairie swim team's Instagram. Benjamin explained the highlight of the season was "getting better relationships with everybody on the team, including the coaches."  
Clarissa Perez is a senior at Prairie High School and has swum for two consecutive years with Prairie. She gave some insight into what school was Prairie's toughest competitor which happened to be Kelso High School this year. All of the girls seem to have hit personal records this year in most of their events. Perez set some of her own personal records this year "It was a freestyle and I believe I at least hit 40-41 seconds." 
The girls on the swim team seem to encourage new girls to join the team, and Perez is one of those people. When asked if she would recommend swimming to other students at Prairie she stated, "Oh absolutely, It's so great. The coaches are amazing, it really feels like a family." Being asked the same question, Benjamin jokes "Yes. Not even just being on a team, it helps you learn a useful skill so you don't drown in the ocean."
Overall, the 2022 girls swim team had a great season with personal and team records being hit all throughout the year.