Golf Wraps up with a School History Finish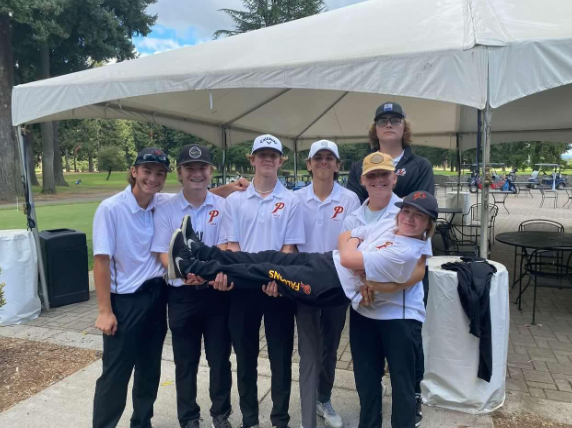 Prairie High School's boys' golf team wrapped up their 2022 fall season on October 11th, at Heron Lakes. They were honored with many achievements during this season. 
  If you take a look deeper into how this season played out you can see the many highlights. This year's teams were bonded very tightly which led them to success making the biggest second-day comeback in Prairie history during districts. 
Led by experienced coach Paul Shapard, Prairie golf had a very successful season. With a league record of 5 wins and 4 losses, the boys took a 3rd place spot, allowing them to compete at districts. The boys used the opportunity to compete and made it to the bi-district tournament where they had to execute their skills. 
The boys did that and more when they made the biggest second-day comeback in Prairie High School history. In an interview with Coach Shapard, he told us "with only 2 teams able to go to the bi-district tournament Prairie had to surpass Kelso [High School] on the second day of districts." This turned out to be a school history finish for the boys, as they did surpass Kelso which left them with nothing but happiness. 
"Everyone was really connected," says junior Grant Lane when asked if there were any concerns with the team this year. Grant hasn't played since he was 8 years old and he was welcomed back into golf with open arms by his new teammates. Grant was a swinger this season so he got to experience both teams and he says "it was fun because you got to see the big difference between varsity players and JV players."
Getting this experience coming back after not playing for many years was very helpful for him to continue developing his skills. This development helped Grant get some of his best scores and have an overall well-played season. With this season being so positive for this young athlete he says he will definitely return to play his senior season.
In another interview with senior Brecken Desmet, we are reassured that the team chemistry was strong this season. Brecken is a 4-year varsity golfer so he is experienced with how the team should act to bring success.  When asked how his personal season went he tells us "he made a lot of new friends." The team bonded well even with people they may not have known before, which is very important in a sports atmosphere. This led them to success and according to Brecken they "had a good season and did very well against the other teams."
The boys ended their season on a high note with many individual awards. The team awards given were MVP which went to Jack Dalberg, the most improved which went to Chase Questad, the coaches award which went to Jack Dalberg and Jack Leidy, and lastly rookie of the year which went to Luke Dalberg and Chase Questad.
 In an interview with Coach Shapard, he says  "The Prairie team was led by seniors, Jack Dalberg, Jack Leidy, Brecken Desmet, junior Nolan Niesz, and freshman Chase Questad." These boys were the reason behind the incredible comeback that was made at the end of their season. The boys secured second place at the district tournament with this school record and are now one of two teams from their league that qualified for bi-districts. 
This incredible season is not over yet, though. Prairie is in the 15% category of schools that have a split golf season. The boys will come back together this spring to finish up their season at bi-districts where they hope to continue the success they had all fall season.