Looking to the Future: PHS Forecasting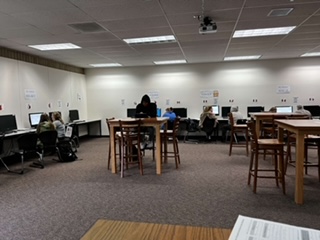 Prairie High school Counselors are working and collaborating to run the forecasting for returning students and new incoming freshmen. This took place starting February 28th and is continuing through the month of March. It's mostly done in the library where students can work and talk with their counselors to figure out what was best for them and their future plans. All materials for forecasting are available online as well.
For the Counselors, this is a busy time as forecasting for all students is done within three weeks to about a month. Schedule requests can still be put in, but generally, the counselors like to get things wrapped up before spring break.
Students are grouped by incoming grade, February 28th is the day for incoming juniors, March 6th for the incoming sophomores, March 13th is for incoming seniors, and the following week after is for incoming freshmen. Prairies counselors face the task of making sure everything runs smoothly for each student. "We set up the whole forecasting process, as to how kids will forecast, we create some of the videos kids might see as well as the worksheet for them and all the class choices, we also talk to them about graduation requirements and their own goals," guidance counselor Ms. Syverson states.
It's a daunting task for any student to figure out what classes are best for them, when asked about common challenges regarding forecasting for most kids, staff member Mrs.Yorke stated the following "Informing the kids of all the choices they could choose, and for them to read about them takes time." To achieve success for any PHS student when it comes to forecasting Yorke says this "Read about the classes, it's all digital now all of it is on our website with course guides and videos, make sure to be mindful in your choosing." Good luck forecasting Falcons!