Snow Days And A Bonus 5 Day Weekend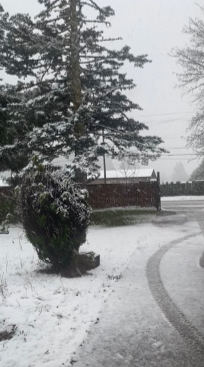 As of the early morning on Wednesday, February 22nd As the snow began to make its way into the vast Vancouver area. The battleground school district including Camas, closed down the school for the day as the wintery blizzard continued on in the late afternoon. Yet in the later afternoons of Wednesday and the early morning of Thursday parents were sent either phone calls or emails about school being canceled the next day, giving students another two days to relax at home.
The blizzard that occurred through those two days of the week started off small, becoming continuous in the noon as the flurries became larger snowflakes, as it progressed the greater Vancouver area got 6 inches almost 8 within the time frame of snow. If the constant snow days continue to pile up it would mean more days to recover in the summer or throughout the spring.
The senior graduation has to be pulled back to the later day of the month, which has never been done before. In the following days as people return to school people may be wondering if will we have snow days. And the answer is yes. "I can tell you that we will have school on March 17th – one of our built-in Snow Make Up Days, and that  also be in school later in June." Principle Woehr says. In the upcoming weeks, the district will come out with the information about which days will have to make up.
When interviewing some students here at prairie I asked "what did you do on this five-day weekend?" a lot of their responses were simply being they stayed at home or watched movies. "I honestly was super confused as to why we still had no school 'cause the sky was super clear and the roads were okay," says Leilani Benitez says "but I ended up watching movies with my sister" she adds. As school begins to go back to its normal schedule signs of more snow storms are depicted in the future from forecasts.