Prairie Wrestlers Take Down The Competition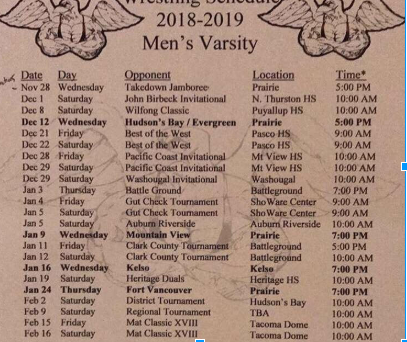 Hang on for a minute...we're trying to find some more stories you might like.
The Prairie Boys Varsity wrestling team is having an impressive start to their  season. On Nov. 29, many of Prairie's athletes placed first and second in the Takedown Tournament at Prairie High School.
The squad went into the tournament with the mindset that it would be a chance to prepare for the upcoming season. Varsity wrestler, Noah Larsen, reflects on the team's objectives going into the event.
Larsen says, "It's just an opportunity for us to get mat time and wrestle other opponents other than our teammates."
Six Prairie wrestlers, including Larsen, placed first in their weight class at the tournament. Ben Matson, Carter Miller, Bridger Paradis, Brayden Sofianos, Justace Walmer, and Jason Wilcox (in alphabetical order by last name) placed at or near the top of their bracket.
The team is now preparing for the John Birbeck Invitational on Nov. 1 at North Thurston High School. Larsen explains how the team is preparing for their first official tournament of the season.
He says, "We are working extremely hard, thanks to the captains who keep us in check."
Many of the wrestlers hope to place at state individually this year. The teams goal is to win every meet this season, and then go on to state as a program. Junior wrestler, Bridger Paradis, believes that although Prairie has a "solid team" this year, if they want  to reach their goals, they must work on "staying focused". Prairie placed second in league last year, and five wrestlers advanced to the state tournament.
Prairie's Men's Varsity Wrestling team has a great deal to be optimistic about as they transition into the beginning of their 2018-2019 season.