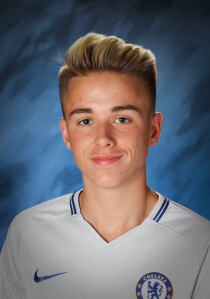 Tristan Glaser was born in Dickinson, North Dakota July 9th, 2000. He moved here when he was 3 and attended Maple Grove for elementary and middle school. As a kid, his favorite thing to do in the summertime was play sports like soccer and baseball, and his favorite video game is FIFA soccer. Now, he's a senior here at Prairie High School.
In school his favorite subject is history, he says "I've always been interested in wars and why they happen". He also describes himself as very social but will get his work done when it needs to be done. Tristan's favorite thing about school is the people he gets to be there with, but his least favorite is having to wake up so early. He's also the goalie for our soccer team, which is his favorite sport because "I've been playing since I was a kid and I've always followed it".
Some important people to him include his dad and his grandpa who both spend a lot of quality time with him. He described his dad as the most important person in his life because he can always count on him. His grandpa is very influential to him because he teaches him a lot of significant lessons and provides a lot of humor in his life. He also appreciates his sister who he says is the kindest to him, even when he may not be.
He's excited for the life ahead of him which he hopes to include being a history teacher and "just being happy and making others happy". Some important lessons he's learned and plans to have with him throughout his life include the importance of keeping good grades and staying out of trouble, how to take care of himself and planning ahead of time. When asked what he's most proud of he said, "how I built myself up".
Tristan Glaser, Sports Writer
May 24, 2018

Prairie Track Team Competes at District Tournament

(Story)

May 16, 2018

Prairie Baseball's Season Comes To a Close

(Story)

May 10, 2018

Prairie Softball Controls Fort Vancouver in League Game

(Story)

May 08, 2018

Prairie Softball Takes Care of Hudson's Bay

(Story)

Apr 26, 2018

Prairie Track Competes Against Kelso In League Meet

(Story)

Apr 19, 2018

The Prairie Track Team Sweeps Hudson's Bay

(Story)

Mar 23, 2018

Track and Field Season Just Around The Corner

(Story)

Mar 08, 2018

Falcons Season Comes To An End At The Dome

(Story)

Mar 01, 2018

Prairie Unified Basketball Completes a Fun And Competitive Season

(Story)

Feb 22, 2018

Girls Basketball Clinches 3rd At Bi-District Tournament

(Story)

Feb 08, 2018

Season Comes To A Close For Falcon Gymnastics

(Story)

Jan 31, 2018

Prairie Boys Basketball Fights Past Fort Vancouver

(Story)

Jan 18, 2018

Boys Basketball Sneaks by Mountain V

(Story)

Jan 11, 2018

Girls Bowling Wins Big Against Mountain View

(Story)

Nov 30, 2017

Girls Basketball Eyeing State Title

(Story)

Nov 09, 2017

Prairie Girls Soccer Advances To State

(Story)

Oct 25, 2017

Falcon Girls Soccer Wins Third Straight League Title

(Story)

Oct 24, 2017

Falcons Slowpitch Wins on Senior Night

(Story)

Oct 11, 2017

Falcon Girls Soccer Heating Up At The Right Time

(Story)