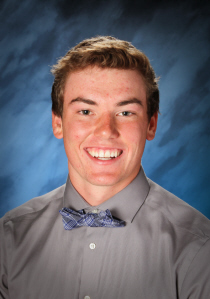 Logan Reed focuses on his education, future, family, and health. People who know Logan would describe him as a kind and truthful person. Logan Reed say "education is important to be successful at what I want to do in life." Logan is in NHS (National Honors Society) which he is proud of but,  this is also what people After high school Logan wants to attend , Boise State University for business and management. One regret he has is not taking more AP classes because he didn't get as many college credits as he wanted . Logans dream is to own his own business and have his own family. A lesson he learned involving school is, "if you respect your teachers you'll get A's". One teacher that is influential to Logan is Mr. Beecroft because he is older yet still active by going climbing and getting outside. He believes that respect and honesty will get you far in life. Logan would consider himself a good and social student.
Family is a "big part" of Logan's life. His parents are the most important and influential people in his life. They are successful together, and both contribute as a partnership. Logan says that his mom would be the most important person in his life because she is always there for him. Logan says his parents are influential because "they are good examples".
His biggest fear since childhood is jellyfish because he fears being stung.  Logans earliest memory was him hitting his head on a counter. His favorite childhood memory would be learning how to ride a bike. Logan is "happy with life so far and how I see my feature." Logan would like to be remembered as a "good friend, someone who can be trusted".
Logan Reed, Sports Writer
May 24, 2018

Pre-State Practice

(Story)

May 10, 2018

Prairie High School Students Takes Gold

(Story)

Apr 26, 2018

Prairie Soccer Falls to Kelso

(Story)

Apr 19, 2018
Apr 19, 2018

Prairie Girls Golf

(Story)

Mar 29, 2018

Prairie Boys Soccer Ties with Union

(Story)

Mar 08, 2018
Mar 01, 2018

Prairie Girls Basketball vs Gig Harbor

(Story)

Feb 22, 2018
Feb 21, 2018

Prairie Wrestling at State

(Story)

Feb 08, 2018

Prairie Wrestling Hosts Districts

(Story)

Jan 31, 2018

Boys JV Basketball vs Hudson's Bay

(Story)

Jan 24, 2018

Girls Basketball Takes on Kelso Highlanders

(Story)

Jan 17, 2018

Girls Basketball vs Fort Vancouver

(Story)

Jan 11, 2018

Prairie Girls Basketball In Oakland California

(Story)

Dec 07, 2017

Prairie JV Boys Basketball vs Camas

(Story)

Nov 29, 2017

Prairie Cross Country Banquet

(Story)

Nov 15, 2017

Prairie Volleyball Is Headed To State

(Story)

Nov 09, 2017

Prairie Volleyball Is Headed To State

(Story)

Oct 25, 2017

Prairie Cross Country Runners Take First At Districts

(Story)

Oct 24, 2017

Prairie Golf Takes Second at District Tournament

(Story)

Oct 12, 2017

Prairie Golf Wins League Over Kelso

(Story)