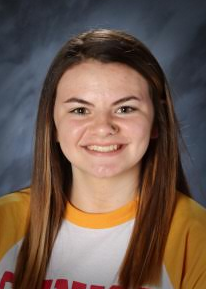 Bergyn Brynlee Tuminson is 17 year old senior at Prairie High School who was born on December 10, 1999 at Salmon Creek Legacy Hospital in Vancouver Washington. Berg went to Felida Elementary and Thomas Jefferson Middle school. Bergyn's nickname is Berg and last year was her first year at Prairie High School and she said that no one knew how to pronounce her name and Mrs. Alway asked if she can call her Berg for short and now everyone calls her that.
"I don't know if I have a favorite subject because I love school, but if I had to pick one it would be math." she loves coming to school which may be hard for some to believe but Berg enjoys it. There are three teachers at Prairie that Berg says impacted her life in a positive way. ''Mrs. Alway, Ms. Gains, and Mrs. Smith are the most influential people'' in Berg's life. "Mrs. Alway always makes me smile when I'm having a bad day." Berg loves meeting people and making new friends and being there for people who need someone.
Berg and her friend Tristan Chaimbers started a club here at Prairie High School called Kindness Begins With You (KBU). KBU is "a club to let people know they are cared about and that bullying is a huge factor in life and how we can prevent it and provide a place for people to learn about the effects of bullying," said Berg. The two of them just got their idea approved and now are officially the presidents of their club. She has a big heart and wants to help her fellow students feel safe and have a place to go and someone to look up to.
Bergs goals and dreams are similar, she wants to have a good job and to have a family and parent the way she believes is the right way. She played volleyball for CC Fusion and is looking into playing volleyball in college. She is looking into multiple colleges.
Also Berg is part of FCCLA as another extracurricular activity at Prairie.
She is most proud of how she stayed strong even through her hard times. She wants to be remembered as someone who has made an impact on several lives and for the loving person she was and is today.
Bergyn Tumlinson, Feature