Prairies Lone Track Star at State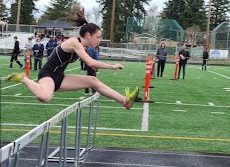 Last week Prairie's Mens and Womens track teams competed in sub districts in hopes of going to state. Out of all of the Prairie athletes who made it to sub districts only one is headed to state, her name is Kara Mattson. Kara has been running track since 3rd grade and is now about to run in her last track meet of her senior year.
Kara is competing in the 100 meter hurdles, long jump and triple jump. So far this season, her personal best for the 100 is 14.93, for the Long Jump is 18"4, and for the Triple Jump is 37'10.75". "I hope to place top 5 in the hurdles, top 3 in the long jump and hopefully pop a pr to get close to winning" says Mattson.
Because of the effect covid has had on the last two seasons, this is Kara's first season competing at state and it will surely be a good one. Although Kara is the only Prairie track athlete competing at state, she is still happy for the opportunity she has in front of her!