Alex Ford wins Wrestling State Championship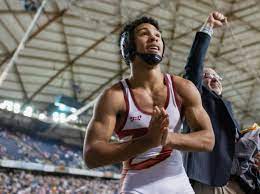 Last Saturday, Alex Ford was crowned 160 pound Washington state champion. This is the biggest accomplishment a high school wrestler can get, making Alex's blood sweat and tears all worth it. Alex has been wrestling since he was a kid and came into high school with one goal in mind, to become a state champion. 
During the match Alex found himself down after the first period but he knew he still had a lot of wrestling left. " After the first period I knew it was my match," said Ford. Alex chose top to start the second period and only a few seconds in he would catch his opponent in a cradle and put him right on his back. The crowd was ecstatic when the fall was called and Alex wasted no time jumping into Coach Smith's arms. "It was probably the happiest moment of my life," says Ford.
Alex was Prairies first wrestling state champion in over 30 years but he doesn't plan to end his highschool years with just one. He's only a junior and plans on coming back next year and doing the exact same thing. Alex stated  "The standard is now a state championship" and he will settle for nothing less.