Falcons Baseball Season Comes to an End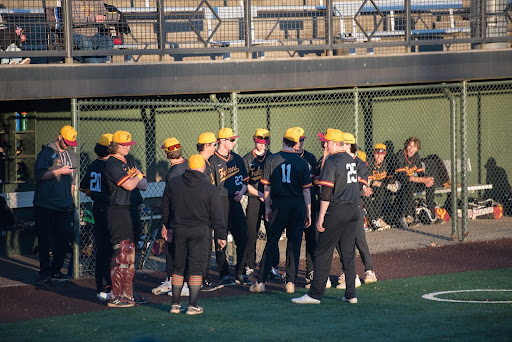 The Prairie Falcons baseball team had a good season this year finishing third in league, this resulted in clinching a playoff spot. The hope was to go on a run and make it far into the playoffs this year. That was the goal, however, they took a tough 3-4 loss to Bonney Lake in a loser-out game, pushing them out of their playoff run.
The Falcons finished with an overall record of 8-12 but had an over .500 record in league with 7-5. The Falcons had a slow start to the season, starting with a record of 1-7 but picked up when league games began.
The Falcons first playoff game against the Kentlake Falcons was a huge game for them as they won 11-2. This high-efficiency offense was led by Colin Schiller who was 4-4 in the game along with Demetri Garifalakis and Reece Walling who both had a home run in the game. Nate Merritt was awarded the win in this game by throwing 5 innings and only allowing three hits and two runs while striking out 5.
The Falcons lost their final game this season 3-4 against Bonney Lake.
Senior Schiller said, "I think that despite all the struggles we had starting the year the way we did, we finished way stronger than where we started. We finished strong in league and rode that momentum into the playoffs. We bonded as a team and had as much fun towards the end." With a great year this year, the Seniors had a great year; they hoped to do more but were able to at least make it to the playoffs.
"Winning the opening playoff game was the best part. Everyone played their best game and our offense had a great day. Our defense was spot on, and it was a fun and rowdy game," said Schiller.
With a great year this year, Sophomore Merritt is hoping to, "win more playoff games and play more games in May." Merritt added, "We are going to miss these Seniors, they really added a lot to this team, but I am excited and ready to get back out and see what we can do next year."
The Falcons had four first-team all-league players this year with Nate Merritt (P), Colin Schiller (IF), Wren Cecil (IF), and Reece Walling (OF).