Gymnastics Wins Districts For First Time In School History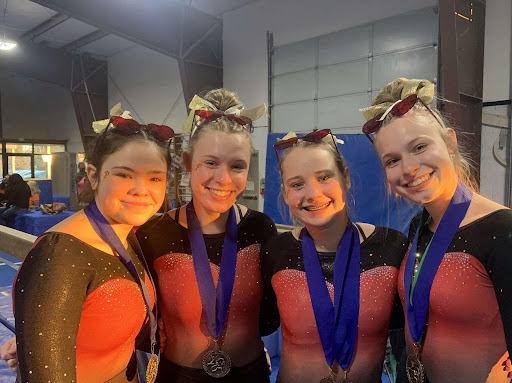 For the first time in Prairie history, the Lady Falcons gymnastics team won districts. Winning districts is an accomplishment in itself, but being the first team in Prairie High school history to win districts is something really special. "The best time this season was definitely winning districts," said Junior gymnast Sadie Kienzle.
The beginning of the season was hard on the team since around 80% of them were injured at some point during the season. Junior Gretchen Lane said, "Our team's biggest struggle this year were all the injuries that happened." With your team being injured, it is hard to perform at the highest level that you can.
Lane was the only Falcon gymnast to individually place at state this year, while the team placed 7th this year. "I thought I did really well this year at state, especially since it was my first time there and I wasn't expecting to place at all," Lane claimed. Lane also earned herself 1st Team All-League for Bars/Vault and 2nd Team All-League for floor.
With a young team this year consisting of mostly juniors, the team hopes to come back better than ever next year. Lane said, "Next year we hope to win districts as a team and I personally want to place in the state for all around." With such a talented team and the experience they gained this year, their goal is most definitely reachable for next year.