Prairie Stomps the Tigers in Final Game of the Football Season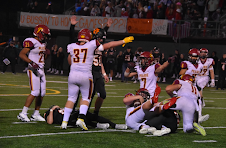 Prairie ended the season with a 40 to 7 win over the Battleground Tigers. The Falcons started off the game strong with a return touchdown by Nathan Phongphouvanh on the opening kickoff. The Falcons continued to dominate the game, going into the half with a 26-7 lead. The defense shut out Battleground for the remainder of the game while also having a scoop and score to seal the game.
The Battleground Prairie rivalry has been going on for many decades and the game is always a huge game for both teams. This game was originally scheduled for week 3 of the regular season but was cancelled due to covid issues. It would've been two straight years without the classic rivalry match up. Luckily both teams were able to fit it in for the last game of the season. This caused the match up to be even more hyped up than ever before. "This is the most excited and ready we've been to play a game this whole season." said Phongphouvanh who totaled 3 touchdowns throughout the game in all 3 phases of the game, offense, defense and special teams.
The Falcons couldn't have asked for a better way to end the season. "To end the season with a huge win over Battleground, it really can't get much better than that," said Grant Holt. Although the game wasn't perfect, it meant a lot to the seniors knowing they gave it their all against their rivals and that they were able to walk away with the win . " We all knew it was going to be our last game together so we gave it our all and made sure we were gonna end it off with a win," said Holt.
The Falcons finished the season with a 6-4 record, winning their last 3 games and ending the season with a bang.