Should Boys Volleyball Be A Tradition At Prairie High School?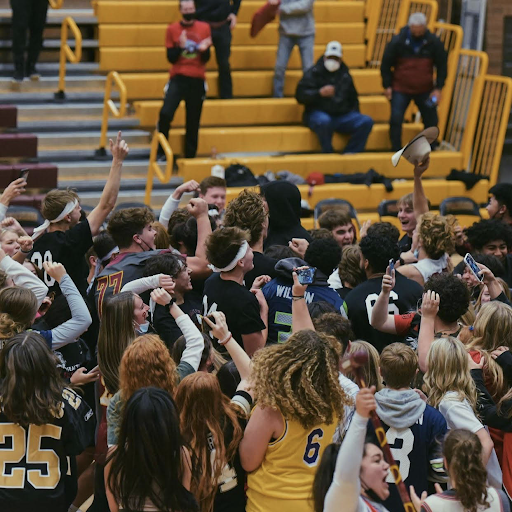 On Thursday, Nov. 4, Prairie High School held their first ever Boys Volleyball game against Battle Ground High School. After an extremely close game, the Falcons took an exciting win with a final score of 27-25. The massive student section rushed onto the court to congratulate the players and celebrate the Falcons success.
This game was a big deal for most who attended and the turnout was tremendous. Some students and staff are even saying it was the biggest sports event at Prairie in quite some time.
"We had great participation for tryouts and we had a huge student section," said Ramsey Evenson, the student behind the creation of the team. "I've been talking to friends about it since freshman year, and since it's my senior year I thought 'why not?'. I brought it up to the athletic director and he said we could give it a shot."
Having a Boys' Volleyball team become a tradition at Prairie would be a great new addition to the school's activities. It would allow for much more school spirit and provide another fun activity for students to participate in or attend.
When asked what the positive outcomes of the Boys' Volleyball game were, Athletic Director and Vice Principal Manny Melo responded, "Having an event that was really enjoyable for the players involved – obviously the fans had a great time. It set a positive tone for the rest of the school year as far as supporting each other. "
Now, the idea of having an official Boys' Volleyball team come into existence at Prairie has been brought up. But with further consideration, it would most likely make the experience of an exciting game less special if it took place more often. Not only would it be difficult to find teams to play consistently, it's more likely that less people would show up to support if it was a common occurrence.
Melo shares his thoughts on creating an official team, "To the extent of what we had already; There's a lot of rules and regulations with adding boys' and girls' teams as real sports. We'll Just keep it as a fun exhibition type thing; having it be a tradition is definitely something we could do."
Adding a fun team to Prairie Athletics as a newfound tradition would overall benefit our school. It will allow students to come together and show pride and spirit. It would make Prairie High School that much more enjoyable for students and even staff.