Prairie Wrestling Makes School History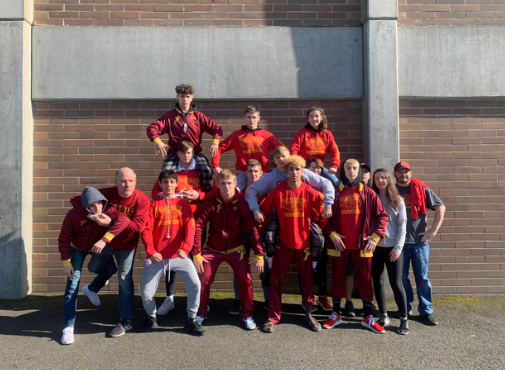 Last Friday, the Prairie Wrestling team competed in the WIAA Mat Classic Championships. The team qualified ten wrestlers to travel to the Tacoma Dome and wrestle against the top teams in the state. 
Over the past season, the Prairie Wrestling team has broken many records and achieved goals that have never been reached before. The Falcons won their first league title this year, beating out five other teams and winning it for the first time in Prairie Wrestling history. Along with this league win, the Falcons also won districts for the first time in school history, scoring 20 more points than Mountain View to secure the victory.
During the Mat Classic State Championships, the Prairie Wrestling team scored 71 points taking seventh as a team, beating their previous record of ninth as a team. Overall, the team had five state placers, including Brody Schleafli, Noah Larsen, Easton Lane, Jason Wilcox, and Malachi Wallway. Other participants include James Daniels, Lucas Lyle, and Ben Matson.
Junior, Easton Lane,  not only placed eighth at state, but also achieved the Academic State Champion award. Lane is the first person in Prairie Wrestling history to achieve both at the same time.
"It felt kinda crazy," said Lane.  " It was super cool and unreal that I achieved it."
Lane wrestles at the 182 pound weight class, making him the 3A Academic State 182 pound champion. Last year, Lane competed in the Mat Classic State Championship, but did not place.
The Falcons heavy weight, Brody Schleafli, also made an appearance on the podium, placing fourth in state. Schleafli lost his first match of the tournament, but continued to win four more matches to wrestle in the consolation finals.
"I think that I could have done a little better," said Schleafli. "But it is surreal, and I am still proud of how we finished as a team."
Other athletes who placed include junior, Jason Wilcox, who took second at 138 pounds, senior, Noah Larsen, who took sixth at 120 pounds, and freshman, Malachi Wallway, who took sixth at 106 pounds.
As wrestling season has come to an end, the underclassmen must say goodbye to their senior captains. The Mat Classic was the last tournament of the season, marking an end to the seniors' high school wrestling careers.. 
  "I am pretty sad they are not going to be here next year", said Lane. "We have been with all of them from the very start, so we are all going to miss them."
With the high bar the team set this season, they will create new goals for next year.
"My goal is to go undefeated and win it all," said Schleafli. "We just need to work as hard as possible and give everything we have. "