Girls Basketball Keeps The Tradition Alive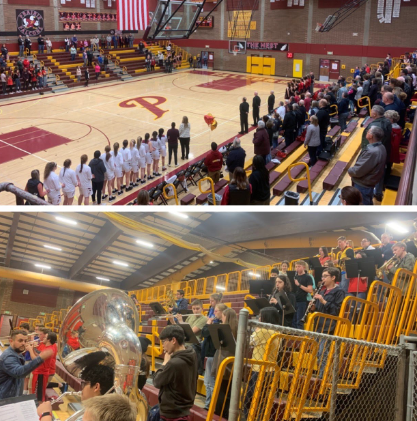 Last Friday, the Prairie High School Girls Basketball team won their first playoff game of the season. This win secured their undefeated league season, continuing the league winning streak since the year 2000. The Yelm High School Tornados traveled down to Prairie High School for the Falcon's last home game of the season. 
The Falcons won 81-37. The team had their season high of three pointers, with a total of 17. Senior captain, Allison Corral, had nine of those three pointers. 
"I guess I was just hot that night," said Corral. ¨Yelm left me open for the shots, so I just kept taking them."
Junior, Claire Heitschmidt, had 17 points and 11 rebounds. She was nominated for the Athlete of the Week last week by the Columbian. Heitschmidt thought the team had one of their best games. 
"Both our offense and defense was strong," said Claire Heitschmidt. "Our shooting has never been better." 
As the event was the last home game of the year, the seniors played their last game in the nest. 
"I have played for four years in this gym," said Allison Corral. "I am sad, but I am glad I ended it with a win." 
"It was sad because it was my last time playing with the seniors who are some of my best friends," said Heitschmidt. 
The Falcons also had their second postseason game against Hudson's Bay at Columbia River High School at 7pm on the 19th. 
This game was for the Bi-District Tournament. For the past four years, the Prairie Falcons have never won this tournament, but the team was hopeful about continuing their post season success.
"We are hoping to go as far as we can," said Corral.
During the next two weeks, the Falcons will be competing in the Bi-District tournament, as well as in other important playoff games. These matches are crucial to being able to compete at the state level. So far, the Falcons are one and one in the postseason, with their first loss against Hudson's Bay. 
The girls have their last Bi-District game next Saturday. To continue further into their season, the Falcons have to win their next game.
"We are preparing for this next game by focusing on practice," said Heitschmidt. "We have been working on in-game situations." 
The Prairie Girls Basketball team is seen as a representation of excellence at Prairie High School. They have been league champions for twenty three years in a row. They have not lost a league game since the year 2000. The players of the 2019-2020 season are hoping to keep this representation of excellence alive.