Prairie Boys Basketball Says Farewell To Their Seniors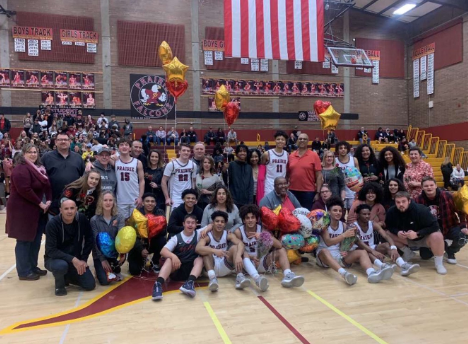 Last Monday, the Prairie Boys Basketball team had their last home league game of the season against the Mountain View Thunder. The Falcons defeated the Thunder 60-37, securing their spot in the playoffs. 
Because it was the last home league game of the season, the Prairie Falcons celebrated Senior Night as a team. Eight varsity seniors were recognized for their dedication to the program. 
This is senior, Treyce Teague's, first year playing for the Falcons. Before his senior year, Teague played for Hudson's Bay High School. Teague transferred to Prairie this year. 
Senior, Jimmie , has also only played for Prairie for one season. Barton transferred from Centennial High School for his last year before graduation. 
Barton and Teague both feel that  this season has been going well.
"I am new to the system, but it has been a good transition," said Barton. 
"This season has been good, we just secured a spot in playoffs," said Teague. 
During winter break, the team's head coach, Kyle Brookes, was hospitalized due to pneumonia. Coach Brookes continues to stay in the hospital currently, but is progressively becoming healthier. The team played during the month of January without their head coach to lead the way, but with assistant coaches that stepped in to take charge. 
  During this difficult time, players on the team have attempted to keep a positive attitude. 
"It has brought us closer as a team and a family," said Jimmie Barton. "We all want him to make a speedy recovery."
The Falcons celebrated Senior Night before the game began on Monday. The team recognized seniors, including Treyce Teague, Jimmie Barton, Brady Gagnon, Gabe Lilly, Mark Fraizer, Zeke and AJ Dixson, and Aidan Fraly. 
"I've played basketball for all four years of high school," said Teague. "That made me kind of sad, and down before we played in the game."
The Falcons will be graduating most of the varsity team, leaving next year's lower classmen to fill the spots of the senior players. When asked what advice the seniors want to leave for the underclassmen, Jimmie Barton suggested to "just try your best and work hard no matter what."
Similarly, Teague said to "just work hard, stay in the gym, and the sky is the limit."
The Prairie Boys Basketball Team has their first playoff game on Thursday February 13th at home against Timberline High School. Tip off is at 7:00PM. 
Leave a Comment