A Monumental Victory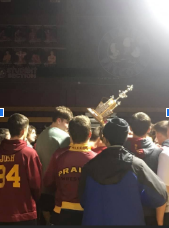 On January 29th, the Prairie Wrestling secured their league title in their victory over Fort Vancouver. The team made history, claiming the league title for the first time in the schools 40 years of competing.   
When asked how it felt to claim the title, senior Zach Brown says, "Awesome!"
This win was a huge accomplishment as it is the first time in Prairie history that they have been league champions.
"It is a big deal," says Brown, "We haven't been league champs and we weren't close to claiming it my freshman year. We have grown greatly and our hard work was shown by taking the title."
The team now moves on to the post season with high hopes.
"Our goals are to win districts and to place top ten in the state," says Brown.
This claim of victory is huge in propelling the team as they move on to the post season.
"It gave us the confidence to do what we are setting out to do this post season," says junior Jason Willcox.
Leave a Comment