Football Award Ceremony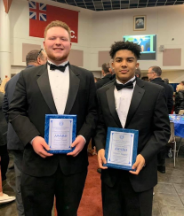 On January 6, the National Football Foundation Clark County held a ceremony and gave awards to football players and coaches to recognize their success on the field and in the classroom. Treyce Teague and Connor French both received the Scholar Athlete National Foundation Recognition award.
Senior Connor French stated, "This award was for the National Football Foundation." The National Football Foundation is a way to promote and show recognition for athletics as well as the academic part of high school sports.
"It feels good to win this award," says senior Treyce Teague. "It feels good to have all the hard work I've put in finally pays off and be recognized." The Scholar Athlete National Foundation Recognition award is given to football players that make a good impact for their team, and also have good grades in school.
"It feels great to win this award," said French. Being recognized for putting in work on the field and in the classroom is important for athletes.
There are other awards that people could receive during the ceremony. "Scholarships were given out, and the people who got them would be first, second, and third place and different amounts of money given with it, according to position." Stated Teague. People can benefit a lot by being nominated and coming to this ceremony.
Connor French says, "All I had to do to nominate myself was fill out a form online." The Process for getting your name out there and in the running is easy, but most people don't know about it. Putting your name out their for awards like this is a good way to make sure you're getting the recognition for what you're doing. 
Not everyone can balance school and sports easily. When asked what advice these student athletes would give Teague said, "I would say to put school first and know  you can definitely do it, it's all about time management and how badly you really want it." . 
Connor French's advice to underclassmen about being a student athlete is to,"Have a plan and set times to play your sports and schedule time to do all your school work." Having a schedule and not procrastinating your school work are both very important steps to be a successful student athlete. 
"Yes, being a student athlete is difficult. It takes a lot of sacrifice, but it all pays off eventually and it's definitely worth it," Treyce Teague says.