A Thunderous Victory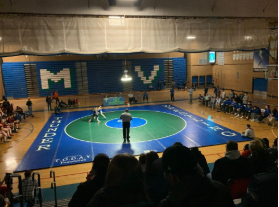 This Wednesday, January 15th, the varsity wrestling team took on Mountain View in league champion deciding matches. Prairie was well prepared and came out with a huge win, defeating the Thunder 58-18.
Despite the tough opponent that was before them, many on the team expected the dominant performance showed by Prairie. "I expected this outcome, I have faith in all of my teammates," says Brody Schlaefli, a senior on the team.
The team has a strong mindset and are ready to take on whatever opponent lies in front of them. Many of the team's athletes feel well prepared and ready for what's next.
"Our main goal for Mountain View was to win, we want to prove that we are the top tear wrestling team that our rankings say we are," says Schlaefli.
"We wanted to get pins, as many pins as possible," says Jason Wilcox, a junior on the team.
To claim the league title, the team must face their toughest opponent yet, Kelso. The team is putting in the time and work to get prepared for this match-up and the ones to follow in the post-season.
"We're preparing for Kelso just as we did for Mountain View, keeping our heads on straight, staying focused, preparing each other, and keeping our intensity high," says Wilcox.