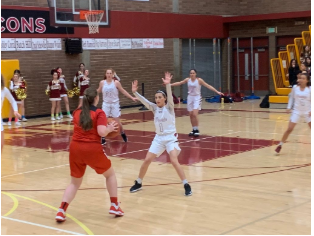 On Tuesday, January 14th, the lady falcons basketball team swept away Fort Vancouver with a win 61 to 16. With this win, the falcons are one step closer in their fight for the league title.
Going into this game, they knew it was going to be an easy win for them. "We wanted to perfect our plays that we use not to just waste this game," says Hannah Clouse, a  junior at Prairie High School.
The team has goals going into this season, especially coming off a state championship, so they are taking every moment to get better to claim their title again. 
They have big goals and expectations, but the players are still focusing on the little things. "In practice, I make it  my goal to to be pushing the varsity girls and making them get better every day," says Lauren Sautter, a junior at Prairie.
Even with such a great win over Fort, the team wanted more out of themselves. "We knew we were going to win but we didn't want them to score that many points" says Clouse.
Now they are off preparing  everyday for the next team that stands in their way of getting the league title. 
"We are working on blocking more shots and having overall better defense," says Clouse. "I want to work on communicating better with my teammates on the court and remembering all the plays," says Sautter.
The lady falcons are coming at this season with great attitudes and work ethic. They are"using these games to making our plays perfect," says Clouse.