Girls Basketball in California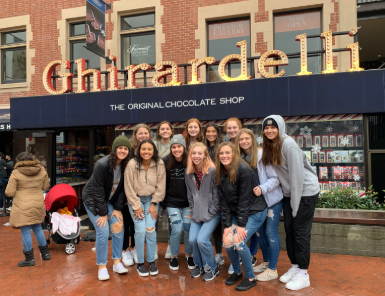 The Prairie Girls Basketball team traveled to San Francisco, California to play from December 26th through the 31st. During the five days there, they played three games, and went 1-2. The girls went to play good competition and to build team chemistry. Whether it was just being together or actually doing activities, the team stuck together.
"Some team building we did was just hanging out with each other in our hotel rooms, having fun and laughing together," said senior captain Dayna Vera. "My favorite activity was exploring San Francisco with my team. I loved being able to see new things that I've never seen before, and it was awesome being able to see the Fuller House house." 
"The team would go across the street to Pop Bar a lot," said junior Claire Heitschmidt. "My favorite part was visiting the house from Fuller House." The team always did things together when they weren't playing games.
"We had one really good game, but the other games we didn't play our very best," said Dayna Vera. "But it's good we know what to improve on." This season is Dayna's last season, because she is a senior. "I'm very excited for the rest of the season. It's our peaking point, and we are just going to get way better and going to win games and we are going to be league champs again. Also, it's sad that it's the seniors last season, so we have to make it a good one." 
"We didn't play good the first game, but we played really good and together as a team the second game. The third game we didn't play that well either," said Claire Heitschmidt. Claire is a junior so this season is not her last. "I am excited for the rest of the season. We are going to get a lot better, and just keep getting better as a team. We plan to win league."
Since San Francisco, the girls team has played one league game and is currently 1-0. Their next match is against a tough Kelso Highlanders team and they hope to become 2-0 in league.