Boys Basketball Over Break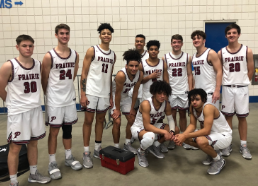 Over christmas break from December 26th to the 28th, the Prairie boys basketball team played two games at the Yakima Sundome. They ended 1-1, only losing to Lynden, the two time defending 2A state champs, by seven. 
Co-Captain Aidan Fraly said, "we went 1-1 so we did pretty good." 
Junior swing player Kory Terrell says, "I think we did alright. It was our defense most likely, but we have it together." A good preseason is very important leading into league play and this tournament was a way to work out any  kinks they have still, and bond on and off the court.
"We just played a lot of games," said Fraly. "We even did a white elephant gift exchange." 
Terrel said,"they bonded off the court just hanging out in the rooms." Bonding as friends and teammates helps chemistry during games. 
Kory Terrell says,"My favorite part of bonding was talking about people to my friends." 
Aidan Fraly mentioned "I like when we all made tik toks together." Not only making the memories, but having pictures and videos saved is a great way to keep the memories alive and keep up the chemistry. 
Fraly says "yes, I am very excited for the rest of the season." As a senior, this season is Fraly's last season as a falcon and winning league is a goal for the whole team, especially the eight seniors on this varsity team. 
Terrell states, "yes I'm very excited for this season and for league to start tonight (1/7/20) against Evergreen." Kory Terrell is very close with this senior class and will be his last year being able to play with all of them. Basketball at Prairie High School has always been very successful and these boys are hoping for another good season.