Prairie's Bowling Team Defeats the Battle Ground Tigers In Rivalry Match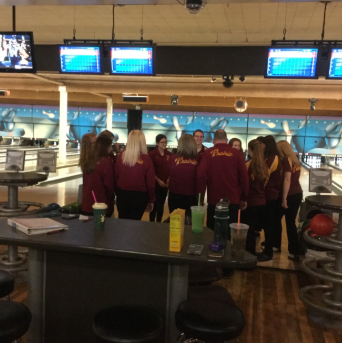 On Friday, December 6th, the Prairie bowling team matched up against the Battle Ground Tigers. The match was held at Tiger Bowl in Battle Ground, Washington. Tiger Bowl is the home alley for both the Prairie Falcons and the Battle Ground Tigers. 
The Falcons have been practicing for over a month now, starting on November 4th. They have already competed in seven matches. Their record consists of four wins and three losses thus far. Some of their opponents have been the R.A. Long Lumberjacks, Camas Papermakers, Columbia River Chieftains, and Skyview Storm.
Prairie's bowling team consists of three different teams, varsity, junior varsity, and C team. They do not hold tryouts, and anyone is welcome to join. There are no cuts on any team. 
"Anyone can join the team," said Anna Gatlin. "The more the merrier." 
The varsity team includes Anna Gatlin, Lilly Bash, Elissa St. Julian, Colleen McNicholas, Abby Weimer, Loie Bolin, McKinley Dearborn, Ashlyn Woodsworth and Karley Wold-Hayes.
Anna Gatlin is a junior at Prairie. She has been on the varsity bowling team for three years. During her sophomore year, Gatlin was awarded Bowler of the Year for the Greater St. Helen's All-League. Anna Gatlin has bowled for seven years. She anticipates this season to be a good one. 
"I think this will be a strong year for the bowling team," said Gatlin. 
The victory over Battle Ground was a close match, but the Falcons came out strong and won by 100 points. Anna Gatlin scored a high series of 191-172. The high scorer of the match was Loie Bolin with a 202-209.
The Prairie bowling team practices everyday after school at their home bowling alley, Tiger Bowl. The practices are held from 3pm to 5pm. Other than practice, the bowling team also joins together in bonding. After their match against the Battle Ground Tigers, the Falcons enjoyed a night of bunco with their teammates. 
"We not only like to have fun on the lanes," said Gatlin, "we also have fun outside of bowling." 
The bowling team is coached by the  married couple, Dawnn and Rhonda Bash. Their daughter, who is a sophomore, Lilly Bash, is on the varsity team. They also have another daughter, Madison Bash, who graduated in 2018 and was a varsity bowler. 
The Prairie bowling team has their next match on Friday, December 13, at 3:15 pm. They will be facing the Evergreen Plainsmen, and it is their league opener for the season.