Prairie Boys Basketball Kicks Off the 2019-2020 Season
 This past Monday, December 2nd, the boys basketball team had their first game of the season. They visited the King's Way Knights at their home court. The Prairie Falcons defeated the Knights 65-55, their first win of the season. The starting lineup included Aidan Fraly, A.J. Dixson, Treyce Teague, Reese Walling, and Mark Frazier.
Tryouts for the team were held on November 18th, 19th, and 20th. The team has been training since to prepare for the season. The boys hold practice everyday after school from 3:00-5:30 pm. They continued to practice on the weekends and over Thanksgiving break to prepare for their first game. 
Senior Brady Gagnon has played basketball since middle school and for Prairie all four years of high school. The Falcons didn't know their starting line up until the start of the game. Gagnon was expected the game to go well that night.
"I don't think it will be perfect because it is our first game," said Gagnon. "But I think we are going to do pretty good." 
Senior Aidan Fraly, scored a total of 27 points, the highest scorer of the game. Of those 27 points, 21 of those Fraly scored were in the second half alone.
"I think I played pretty decent," said Fraly. "But I had a much better second half."
When asked what the team needs to improve on before the next game, Fraly responded "we need to work on defense." Fraly thinks the Falcons let the Knights have too many scoring opportunities during their game.
Last year in the 2018-2019 basketball season, not only won a league title but the Falcons also made it to state. They return this year with missing seniors, but with some familiar faces. Seven of last year's varsity team members have returned for another season with the Falcons. 
"I think we are gonna do pretty good this year," said Gagnon. "We just need to figure our stuff out and play as a team."
Fraly agrees with Gagnon saying that the team is looking to have a good season. Fraly expects the team to place this year and do better than they previously did last year. 
"I believe we will go pretty far," said Fraly. " We just need to work hard enough and really want it, we will get there." 
The Falcons continue to train on the daily for their upcoming game. The Varsity boys have their next game on Thursday December 5th, at Camas High School at 7pm.
"When we have more fans, the whole teams get hyped," said Fraly.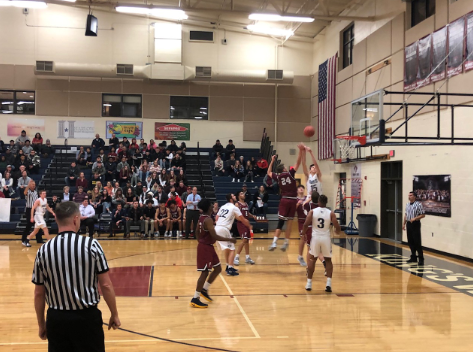 Falcons V. Knights
Photo by Stephanie Watts