Prairie's Football Season Comes To An End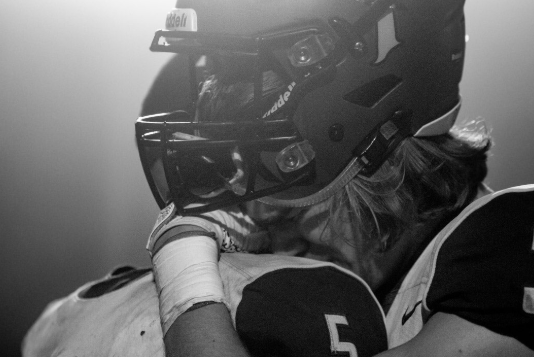 Last Friday, the Prairie Falcons had their last football game of the year at Marysville-Pilchuck High School. Players, coaches, and fans traveled three and a half hours to the playoff game. The school provided three buses, one for the fans, and two for the players.
The buses left around 10am for the 6pm game. The football players stopped at Snohomish High School to work out and prepare before their first state game. They arrived at Marysville-Pilchuck two hours before the game started. The fans then arrived shortly after the players, waiting for the kick-off.
Prairie Falcon, Isaiah Braker, who has been playing for the Falcons since he was a freshman, felt like the Falcons did well until the end of the game. The Tomahawks led the Falcons by just over ten points for a majority of the game, but the Falcons scored 22 points in the second half to lead 30-27. With only ten seconds left in the fourth quarter, the Marysville Tomahawks tied the score 30-30 pushing the game into overtime. During overtime, the Tomahawks scored a touchdown and a field goal, ending the game with a victory.
¨I feel like we definitely could've done better ̈, said Logan Robertson. ̈ ̈But there still is a lot to be proud of.¨ 
The Falcons ended the season with an overall record of 9-2, which lead them to win the 3A GSHL league title. This is the first time that the Prairie Falcons have won the league championships in over thirty years. Over the season, the Falcons have broken multiple records and have set an all time scoring high of 73 points. It is also the first time the Falcons have made it to the state playoffs in over 25 years.
¨It feels pretty good to make history and break a lot of school records ̈, said Isaiah Braker. ¨We have definitely put the standards high for Prairie Football.¨
This loss against Marysville-Pilchuck marked the end to the senior's football career at Prairie. Most of the seniors have been playing for the Falcons since their freshman years of high school. Braker said that players and coaches were upset about the loss, but life goes on. 
¨It was obviously sad, because it was the seniors ́ last game ̈, said Robertson. ̈Everyone was pretty emotional after we lost.¨
Even though the Falcons lost, Braker still believes they still had a pretty good season. When asked what his favorite memory was from playing with the Falcons, Braker said, ̈Probably getting closer throughout the season with everyone, and creating a bond with my teammates.¨
Robertson said that his most memorable moment was when they  ̈became league champs and [beat] Battle Ground.¨
Some of these seniors have been playing together since middle school, through CCYF. They graduate this year leaving a record-setting season behind them. 
"I am sad that it is over, but I am proud of what we accomplished this season," Braker finalized. "I cannot wait to come back and see what the team does next year."