Prairie's Cross Country Team Competes At State Tournament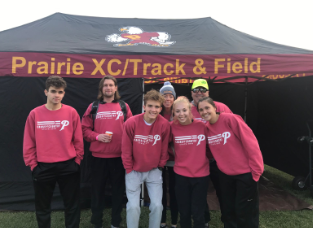 Prairie's cross country season has come to an end, as they had their final meet on Saturday, November 9. The Washington State Meet is the highest competition for Prairie runners. It contains the runners with the fastest times in each league throughout the Washington. Prairie is a part of the 3A Greater St. Helens League. 
The Washington State Meet was the final race for qualifiers Meri Dunford, Luke Lund, Lauren Sautter, and Sam Snyder. Dunford and Lund competed in their last high school cross country meet, as the two seniors are in the graduating class of 2020. Sam Snyder and Lauren Sautter were first timers at the Washington State Meet, but the other two qualifiers were returning state runners. 
Meri Dunford was Prairie's Athlete of the Month during September. She has been nominated for The Columbian's Athlete of the Week twice this school year. She placed first at the District Meet and Regional Meet, and she placed tenth at the  Washington State Meet.
"I was pretty happy with how I placed," said Dunford. "I wanted to do a little better, but I still placed higher than last year." 
  Luke Lund has ran cross country since his freshman year, competing as one of Prairie's varsity runners. He has attended the Regional Meet every year of his high school cross country career. Lund attended the Washington State Meet in his junior and senior years of high school. During the 2019 Washington State Meet, Lund placed 46th out of 159 runners.
"I think I did pretty good in my state meet," said Lund. "I felt great about it."
Prairie's first time state contender, Snyder, placed 110th out of 159 runners on the boys' side. Sautter took 116th out of 160 runners in the girls' race. All four of Prairie's Washington State Meet qualifiers are also runners for Prairie's track and field team. 
In the future, Dunford plans to run in college. 
"My top choice is probably Brigham Young University," said Dunford.
As for teammate Luke Lund, he is undecided on if he wants to run in college.
The Prairie Falcons will be losing a total of seven seniors this year, two of which are girls. Two of those seniors were on the Falcon's varsity team. When asked what advice they want to leave for their younger teammates, Lund said, "If you give it everything you have, nothing can stop you from achieving your goals."
Dunford advises to  ̈always give yourself a chance.¨ ¨It doesn't matter what it says on paper.¨ 
The Falcons finished their season with both the boys and girls cross country teams both being League and District Champions. first in Districts and first in the League. This is the Falcon boys ́ second year in a row winning the District title.  
Leave a Comment