Prairie Football Takes the League Championships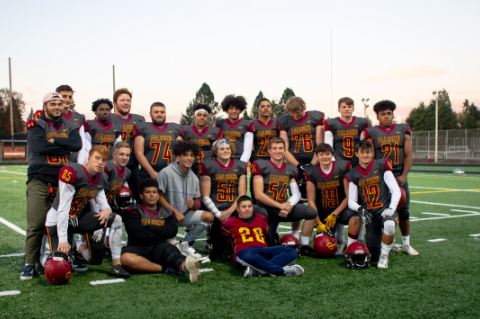 Last Friday, the Prairie High School football team won the league championship for the first time in over twenty years. The Prairie Falcons defeated the Evergreen Plainsmen 42-14 during the Falcons last league game of the season. Before the starting kick-off, the Falcons celebrated their twenty seniors of the 2020 graduating class. 
During the regular season, the Falcons overall record was 8-1, losing to Mountain View High School by one point. Before playing the Mountain View Thunder, the Falcons were 5-0. This was the first time the Falcons had been 5-0 in over 30 years. The Falcons have been playing together since early June, and have been practicing every week since then.
Treyce Teague, one of the Prairie Falcons seniors, has been playing football since he was little. He played for the Hudson's Bay Eagles his first three years of high school, then transferred to Prairie for his senior year. 
"I think it was a good move", said Teague. "It is a new phase in my life and it worked out really well."
The Falcons senior night started at 5:30 last Friday, as the twenty seniors lined up on the fifty yard line. Teammates, such as junior cornerback Dion Garrett, said their goodbyes to their fellow teammates that they have played alongside for the past three years.
"I'm going to miss them", said Garrett. "They started a foundation for this program and left us a legacy."
After their win against the Plainsmen, the Falcons celebrated their league title. The Falcons lined up in the end zone to get a post game picture.
"It feels good, that was the goal", said Teague. "We put in a lot of work to achieve it."
Since their game on Friday, the Falcons have been preparing for their post season playoffs. The first opponent the Falcons will be facing is Capital High School. Capital will be traveling down from Olympia, Washington to compete against the Falcons. The game will take place this Friday at Battle Ground High School's Distict Stadium at 7:00 pm. 
Dion Garrett has been a part of Prairie's Football Program for the past three years. He explains his goal for playoffs. 
"I expect us to make a long run", said Garrett. "I think we can make it to the state championships."
Teague, along with Garrett, believes his coaches were the core motivation behind this season. The coaching staff includes: Mike Peck, James Young-Lewis, Kawan Martin, Ken Shelton, Brett Matasci, Larry Peck, Rob Smith, Ben Kapelka, Junior Miller, Justin Kemp, Jake Wilcox, and Jeremy Neyens. Mike Peck is the head coach and runs the program. 
"The coaches have really been pushing us since before the season started," explains Treyce Teague. "They pushed us more than ever in the off season", adds Garrett. 
"Honestly the sky is the limit" Teague says.