Prairie Soccer Team Says Goodbye To Their Seniors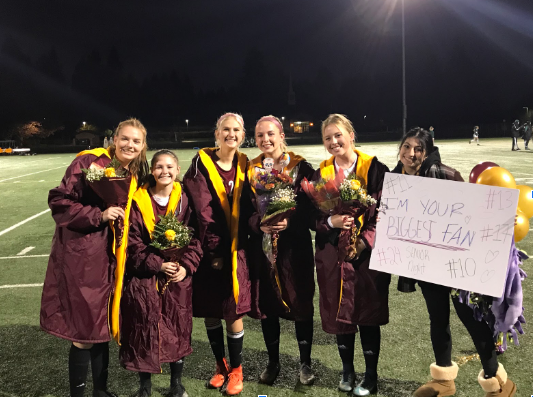 Last Tuesday, the Prairie's Lady Falcons had their last home game of the season. They defeated their opponent, Evergreen High School, in a 7-0 win. Before the match, the Prairie Falcons celebrated their seniors' last home game of their careers. 
 Head coach, Michael Thyron, and junior varsity coach, Cristy Thyron, along with the team, said goodbye to thirteen seniors, eleven in which had played soccer all four years of high school. The class of 2020 senior soccer players ended their high school career, continuing the legacy of competing in the playoffs for the thirteenth year in a row. 
The Lady Falcons ended their league season in third place with a record of 6-4. 
Mountain View High School came out on top with Kelso High School ending in second place. Kelso and Mountain View were the only teams in the 3A GSHL that defeated the Lady Falcons.
Senior captain, Paige Darley, has been playing for the Lady Falcons since her freshman year of high school.
 "This season had its ups and downs, but I enjoyed it", said Paige Darley. "I think all the other girls did too."
The Falcons have been playing together since August of 2019, and have been practicing every week since then. Macey Hall, another player on the Lady Falcons, has also played since her freshman year. 
"We have overcome a lot of challenges this year", said Hall, "but I am proud of how far we have come." 
After their victory on Tuesday night, Hall was in disbelief that she had just played her last game for Prairie High School. As the season will soon be coming to a close, the senior players are saying their goodbyes to their younger teammates and remembering their favorite memories with the Lady Falcons.
"My favorite game of my four years at Prairie was beating Mercer Island High School in the semi-finals of my junior year," explains Macey Hall. "That is the game that led us to state."
Hall leaves the following advice to her underclassmen teammates: "Have confidence in yourself," Hall advises. "Don't be afraid to step up and be a leader to everyone else." 
Macey Hall's plans for next year include attending college to study to become a physical therapist and playing intermerrial sports to keep in shape. She also plans to visit her teammates and watch some of their games next season. 
Paige Darley advises her teammates to not "stress [themselves] out" because they "still have time to do what [they] want and make the season what [they] want it to be."
Darley's plan for after high school include attending Washington State University. She intends to study veterinary medicine and to someday become a veterinarian. 
Despite their record in league, the Lady Falcons are moving on into their post-season. The Falcons first playoff game is on Nov. 2. They will be playing against Bethel High School in Spanaway, Washington near Tacoma. There will be a charter bus for players and students to ride to the game.
"I was disappointed when we did not continue the legacy of winning league for the fifth year in a row," Macey Hall claims, "but I am still grateful for another chance in playoffs for my senior year."
Leave a Comment