Prairie Undefeated No More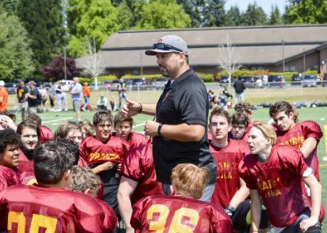 October 10th, 2019, the Prairie Falcons lost to the Mountain View Thunder 22-23. Prairie was the home team in the Thursday match-up. It came down to the final minute in the intense 48-minute match up. 
The league matchup came down to the wire and Prairie and Mountain View competed in a very intense environment. However, Mountain View secured the win after Prairie did not do a PAT, instead tried the two point conversion, but did not complete it, causing them to be down by one point. 
"Not at all, we go for two every single time. It's what we do. We're not gonna change it in the most important situation of the year." Coach Peck says, "We are always going to be aggressive, we wanted to go for the win, that's what we want to do all the time." Mountain Views offense scored twenty three points in the forty eight minutes of play.
Prairie's preparation for this game was "Incredibly well," Coach Peck stated. "But as a coaching staff we could've done a better job preparing them, especially in the first half on offense. But we are really proud of how hard the kids worked."
Coach Peck and the falcons won't give up now, "We are a really dang good football team and we will fight for four quarters, and our kids will give everything they have. The best football is ahead of us."