Boys Golf Takes Victory Over Battle Ground and is Headed to Bi-Districts
The boys golf team, lead by #1 golfer Isaac Kinsman, won 1-0 while playing at home on Tuesday, October 1st. The boys defeated our rival Tigers and have one more match against Fort Vancouver on Tuesday, October 8th before they're headed to bi-districts.
Patrick Kurfurst, a junior on the boys golf team, says "The team did really well against Battle Ground in general." Kinsman took first best on the team but Kurfurst and senior golfer Hugh Foster took second best with a score of 46. 
"I could've performed better against Battle Ground but I performed as well as I could've," Kurfurst stated. Although his score of 46 is a little below his average, Kurfurst is overall very happy with the results and how the team performed. Filled with only excitement for this match, Kurfurst says, "I just wanted to go kick their butt."
With bi-districts in the near future, Kurfurst and the team are preparing to crush their competition. Districts are being held at Tri-Mountain which the team has played at several times in the past and is well liked among team members.
Kurfurst shares his plans to "go hit the driving range" and "play Tri-Mountain" to practice his swing so he can have the "best score on 18 that I've ever had." With the last match behind him, Kurfurst learned to "not let myself get worked up whenever I have a bad hole." 
The main strength of the team Kurfurst pronounced is "our companionship and the bonds they have together… we don't get frustrated with each other." They hope to take this dynamic to districts and Prairie Journalism is wishing you the best of luck.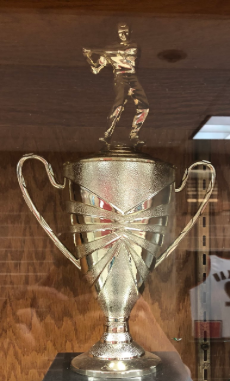 Photo by London Fairchild
The Boys Golf Trophy