Boys Track Group Beats Record For 4×100 Event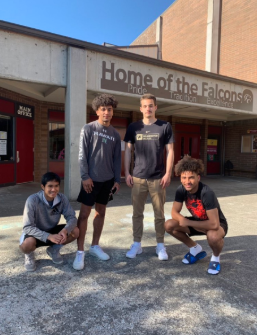 Hang on for a minute...we're trying to find some more stories you might like.
Nolan Mickenhame, Aj Dixson, Zeke Dixson, and Darius Dancel all contributed to beating the 4×100 record at districts on Thursday, May 9 at Mackenzie Stadium.
The previous record had been set in 2013 at 42.97. The boys worked hard to lower the record at 42.93. Senior Nolan Mickenham noted how they have been trying to reach this goal for awhile now and how it felt so good to finally achieve it. "It felt really good to finally beat it. That was our goal for awhile and everything finally clicked for us." Junior, Aj Dixson also added how they long they have waited to finally beat the record. "It felt really good to finally beat it because we have been trying to beat it for three years."
Despite just beating the record, the boys have other goals they hope to accomplish as season comes to an end and as state approaches. For Dixson, this goal is to become state champions. "My biggest goal is for us to become state champions because that would be a huge accomplishment for us and the school as a whole.'' For Mickenham, who has also set the record for the 200, his goal is to keep lowering his school record and finish well in state. "My goals going forward are to keep lowering the school records and place top three at state in the 100, 200, and 4×100."
Regionals for the track team is on Friday, May 17, and Saturday, May 18, at Sumner High School. Come support!