Boys Baseball Beats Undefeated Mountain View on Senior Night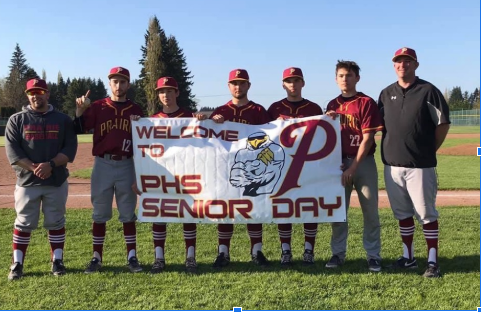 Hang on for a minute...we're trying to find some more stories you might like.
The boys baseball team beat Mountain View high school 7-6 on senior night, Wednesday, April 24, which was also the boys senior night.
The game started off honoring the five seniors and all their seasons they have played at Prairie. For some of the seniors, it still feels unreal that their final season is coming close to an end. "I don't think it's really hit me yet that I only have two games left."Senior Ethan Mcclintock noted. "I've been so focused on winning and performing that I haven't taken the time to step back and just think about how this is it for me."
Mountain View's team was also undefeated going into this game, which made the win that much greater for the boys team. "Beating Mountain View on senior night was such an amazing feeling. The fact that they were undefeated and the best team in our league was amazing. There's no better senior night than that." Senior Caleb Jones added.
The seniors also had some words to say to the underclassmen that will have to carry the team next season when the seniors are gone. "I would say to not take anything for granted, not even practices. Also don't take everything so seriously and have fun because at the end of the day, baseball is supposed to be fun." Mcclintock said.
The boys are preparing to play Camas at Prairie High school at 4:00 p.m. on Wednesday, May 1.