Boys Baseball Team Falls Short In Double Header Against Evergreen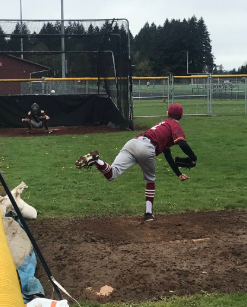 Hang on for a minute...we're trying to find some more stories you might like.
The boys baseball team played Evergreen in a double header on Friday April 12 and lost the first game 1-4 and lost the second game 5-14.
The boys had to face multiple rescheduled games after a majority of their games for the week got rained out. Because of this, the boys had to fit two games into one day. Senior, Trey Hebert, noted how the team played well despite the two losses and that they only had one bad inning that Evergreen took advantage of. "We actually played pretty good even though the scores don't reflect it, the team hit pretty good. We had one really bad inning and that's when Evergreen scored most of their runs."
Senior Bret Mcguire added how the team played more as a whole in the first game which led to it being a closer game. "The team did better in the first game than we did in the second game. We played more as a whole and played together as one team."
The boys baseball team is preparing to play Kelso at Kelso high school on Wednesday, April 17. Come show your support!