Prairie Boys Soccer Team Defeats Kelso 3-1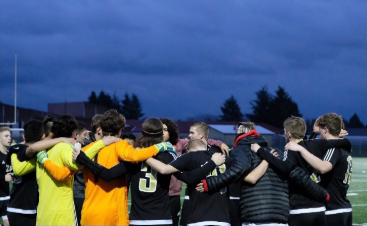 Hang on for a minute...we're trying to find some more stories you might like.
The boys soccer team beat Kelso 3-1 on Thursday, March 28, at the Kelso Highlanders home field.
After the team lost their first league game to Evergreen, the boys wanted to redeem themselves and get a win against Kelso. The boys team had been struggling to find their rhythm, according to senior Blaine Clary, but they found it this game and ended up with the win. "The team did well. We have been somewhat struggling to find our rhythm but we came in with the desire and focus to beat Kelso and that's what we did."
Clary felt that he contributed to the win by minimizing the other team's offensive looks. "I contributed by helping protect our goal and stop their attacking players before they were able to create some chances, and supporting the offense with long balls into the middle of the field."
Senior Owen Clayton, who was returning from a concussion, had a crucial first goal of the game for the Falcons that helped them gain momentum and gain confidence. " With a team everyone has to play their certain role in order to win and I thought I played mine great. I also thought for myself that scoring the first goal contributed to us gaining confidence and scoring two more as a team."
The boys team is preparing to play Skyview on Tuesday, April 2, at Skyview high school at 7:00 p.m. Come out to support!