Both Girls And Boys Track Team Defeats Evergreen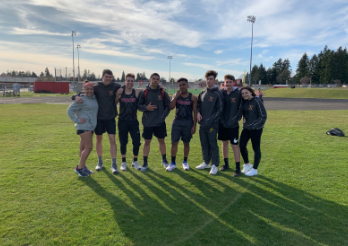 Hang on for a minute...we're trying to find some more stories you might like.
The girls and boys track team defeated the girls and boys track team last Thursday at home at 3:30.
The girls throwing team beat the Plainsman across the board. Senior Malaika Quigley got second place not going 100%. "It felt good because I felt like I was throwing normally again." Quigley is coming off a knee injury and Thursday was her first time doing a full approach since she got hurt. "I think I did okay but I have room for improvement" says Quigley.
"The distance team did really well" says junior Meri Dunford. Dunford got first in the mile on Thursday, and was apart of the 4×4 team as well. "I did pretty good, i was happy with my times" says Dunford. Dunford says the team will keep practice to improve their times.
The track team does not compete for two more weeks but will keep practicing to improve themselves.