Baseball Team Falls Short To Evergreen In Their League Opener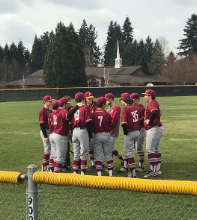 Hang on for a minute...we're trying to find some more stories you might like.
The boys baseball team lost 3-11 against Evergreen on Thursday, March 21 at their home field.
Junior, Ty Hebert, noted that even when they were losing that the team showed a lot of fight and  perseverance. "As a team we started off really slow. We showed a lot of fight towards the end but we just couldn't get it done."  Although the team struggled during the game, there were still some positive things that did happen according to Hebert. "I had a pretty good game. I hit the ball really well and I also made some good plays in the field." Hebert also noted that him and his brother, Senior Trey Hebert hit back to back doubles which he considered the highlight of the game. "The highlight of the game was when Trey and I hit back to back doubles and started a rally to get us back into the game."
Freshman, Reece Walling, also added how the team played hard through the game even when they were losing. "I think the team had some struggles but we played hard and were tough throughout the game."
The boys are preparing to play their next game on Monday, March 26 against the Kelso Highlanders.