The Falcon Softball Team Starts The Season Off With A Jamboree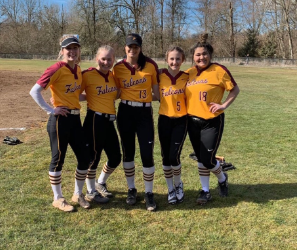 Hang on for a minute...we're trying to find some more stories you might like.
The lady Falcons softball team played two games last Saturday at a jamboree to start off there 2019 season.
The Falcons had a good start with a win in the first game and a second game loss on Saturday. "The jamboree went okay, we started out rough in the first game but then pulled ourselves together to win" says senior Madison Graham. With this being the last start of her softball career Graham has mixed feelings. "It's a bittersweet moment for sure. Knowing this is my last season ever playing softball makes me sad but excited for what my future outside of softball holds." says Graham.
"I'm really excited to start this season because this team has a lot of potential" says senior Mallory Williams. "We have a lot of talent and i'm excited to see where this season goes" sayd Williams. The Falcons made it to state last year and they plan to go even further this year. "I think we could do great things this season for sure" says Williams.
The Falcons play Monday, March 11th at home. I hope you all can come out and support!