Champions in the Making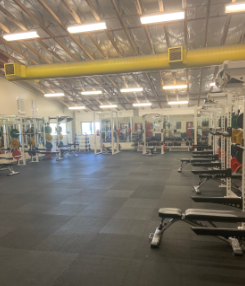 Hang on for a minute...we're trying to find some more stories you might like.
As part of building a new culture after making the playoffs this past season, the football program is now holding, "Champions Hour" in the morning before school. Starting at 6:45 or 7:45 depending on the bell schedule, the weight room is open to all those who are hoping to, "get big and fast."
Head football coach Mike Peck felt that the new program, "is a great opportunity to start the day with hard work." He said his reasoning for the idea was developed after wanting to give his athletes a head start on the day.
Sophomore, Brody Schlaefli, is a regular of the early morning weights. He says his motivation stems from, "just wanting to be the best person I can be." Schlaefli, a 6'5 260 lb lineman, hopes to play college football after high school, and hopefully make it into the NFL. Hard work ethic and accountability are just stepping stones on Schlaefli's journey to achieve his goals.
Also new to the football program is easily available protein. Shakes and bars are available in Coach Peck's office through a punch card system. For athletes who consistently weightlift, protein is a vital supplement in not only remaining healthy but also seeing any kind of results. The punch cards, which come in increments of $5, $10, and $20 are also available through Coach Peck.
Any questions about "Champion's Hour" or protein should be directed to Coach Peck, who's office can be found in the Boys' PE Locker Room.