A State Championship for the Prairie Basketball Team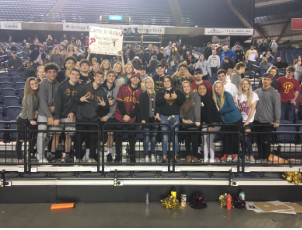 Hang on for a minute...we're trying to find some more stories you might like.
The Prairie girls basketball team won state this past weekend at the Tacoma Dome and earned another state title for Prairie.
With close to an undefeated season the Prairie girls had a remarkable season that began from the very start. With a record of 25-2 they dominated in league and then state. Going into state weekend the girls were ranked first and had a lot to prove. The first state game was a win against Edmonds-Woodway with a score of 58-39. The second game was against Kamiakin and in overtime they battled it out to win 67-62. In the championship game it was close with a talented Mt. Spokane team that kept the girls on their toes. They finished with a score of 37-35 which will now be the Prairie basketball programs 7th state championship.
As you can probably imagine all the girls were overwhelmed with joy as this was the first state championship in seven years. Senior Brooke Walling explained that, "the weekend will definately be something I remember forever." She also said how the whole team work had finally paid off through the season.
 Another senior Mallory Williams said, " I am really proud of my team as well as the season as a whole." She explained how she was happy to end the season on such a high note.
With the season at a end the Prairie community will always remember this run the basketball team had. With great success, I'm sure next season the team and coaches will look to keep this streak of a successful program going.