Short-Shorts Win it All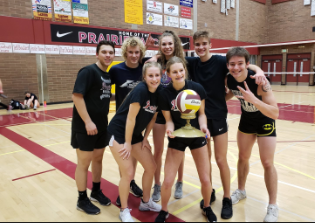 Hang on for a minute...we're trying to find some more stories you might like.
Last Thursday night the Fellowship of Christian Athletes held a volleyball tournament to raise funds for their club. Four teams signed up, with Team "Short-Shorts" taking home the coveted FCA Cup.
The night started around 6, when an FCA leader held a group prayer to kick off the event. From there, round-robin style placing matches started, which eventually led to the single-elimination tournament. Before the tournament portion started however, senior Hannah Kneeshaw stood in front of the crowd and spoke about her experiences with being athlete and her faith. She spoke about her own self-doubt and how she overcame it all by trusting in her beliefs. Once she was finished, she was given a large round of applause and the games continued.
After the semi-finals, Team "Short-Shorts" faced off against "PFalcs" in the championship game, and won the title in three sets 2-1. With the tournament being co-ed, Team "Short-Shorts" consisted of seniors Katie Vroman, Molly Packer, Jayson Maddux, Trey Hebert, and Caleb Sagert as well as juniors Jamie Packer and Luke Lund.
Jamie Packer felt the tournament was "really fun to win because we played for fun, so winning was just a bonus." She felt the best part of the night was playing with her friends and getting to sign the trophy at the end. When asked how she felt about the journey to the championship, she attributed it to "playing as a team and involving everyone as equally as possible."
FCA hopes to continue this fundraiser in the future, so look out for the next volleyball tournament coming up next year.