Falcons are Taking Over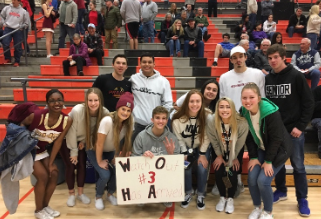 Hang on for a minute...we're trying to find some more stories you might like.
Prairie athletics has really taken off these past few years. Some of the biggest athletic accomplishments at Prairie mainly consisted of basketball, recently almost all the sports have been making jurassic leaps.
Starting off with fall sports, Prairie really outdid itself. With football they made it to playoffs for the first time in seven years! This has to be a great uprising for both the football players and the school. Another fall sport that have done extremely well was volleyball. For the last three years they have placed at state and consistently been league champs. Soccer has also accomplished a lot for Prairie this year. For the second time in Prairie history the girls soccer team placed fourth in state as well as had a super successful season! These were just some of the big advances Prairie acquired which is not including a great season that boys swim, cross country, cheer, and dance had.
With a great end to the fall sports season, winter sports have also done astounding as well and are currently at the end of their seasons. All six winter sports qualified for state which gave Prairie another huge confidence shift. Both boys and girls basketball are headed to the dome this week and looking to take home some state titles. The wrestling team also had many state qualifications and placements which is also a huge deal! Some of these include Brayden Sofianos in 2nd place, Jason Wilcox got 5th place, and Nick Langer got 3rd place. Girls bowling placed second in state and three from the gymnastics team went to state. The second season of cheer also had a fantastic season despite a coach switch which all the girls describe as "a great advance to Prairie."
Next up we have spring sports, and from the look of it some great seasons are about to take place! In the past few seasons all the sports including girls tennis, girls golf, track and field, baseball, and softball have made great postseason runs.To sum it up Prairie is getting to be a dominating school in not just one sport but all. The Falcons are out working their way to the top and if you haven't came to watch I would start!