Boys Basketball Team Face Tough Loss Against Mt. Spokane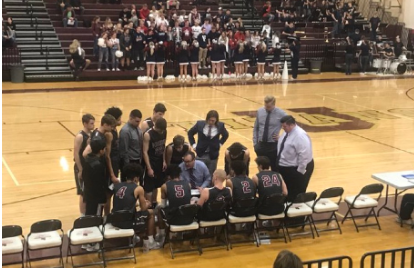 Hang on for a minute...we're trying to find some more stories you might like.
The boys basketball team faced defeat on Friday, February 22 against Mt. Spokane high school with a score of 52-71.
The boys basketball team, ranked number seven, played Mt. Spokane who is ranked number two, so they anticipated a tough game from the tip-off. According to senior Tom Hapgood, their team had no answer for Mt. Spokane's post players." We struggled with rebounding and defending their tall post players. Their guards and forwards also rarely missed from the outside." Although they were outscored in almost every quarter. The boys pulled through and went on a 17-3 run according to Hapgood. " Even though we lost, we did go on a 17-3 run in the fourth quarter to outscore them in the second half."
With this loss, the boys now move onto the Tacoma dome to play a game on Wednesday February 27 against Ingraham, which is a loser out game." We're preparing for the dome by practicing hard and having a good scouting report. We want to go out there and win." Junior Zeke Dixson added. The boys are planning to redeem themselves with a win at the dome.
The boys will be battling to stay at state on Wednesday, February 27.  Make sure to come out and support!