Boys Basketball Season Comes to An End With a Loss At The Dome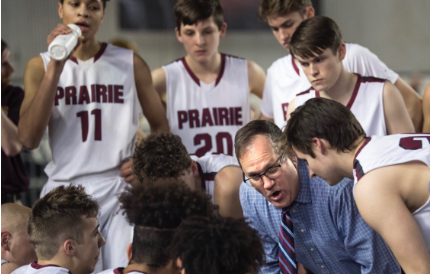 Hang on for a minute...we're trying to find some more stories you might like.
The boys basketball team lost to Ingraham 30-46 at the Tacoma Dome on Wednesday, February 27.
For the seniors, this loss hit especially hard as it was their last game in a Prairie jersey." It was a bittersweet moment. I'm so proud of the team for making it here and we all accomplished but also very sad it was over." senior Tom Hapgood noted. Senior Bronson King also felt that the team should be proud of themselves for all the great things they have done."I felt like we put in our best effort and shouldn't leave with our heads down and we should be proud of what we have accomplished.'
Despite ending on a loss, Hapgood and King still cherish all the memories they have made in the past four years of basketball." My favorite memories were beating Kelso both at home and in playoffs to win the bi-districts championship." King said. For Hapgood, his favorite memory was going to Arizona the past December." Some of my favorite memories are going to Arizona with the team and riding around the city with Lime scooters. Also the bus rides and messing around with all of them." Besides the seniors, the rest of the team is already waiting for next season to start.