Falcons Clinch State Berth With Win Over Lincoln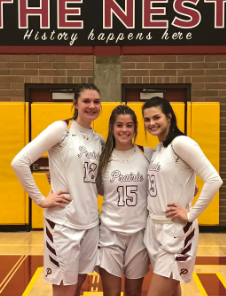 Hang on for a minute...we're trying to find some more stories you might like.
The Lady Falcons basketball team took on Lincoln High School from Olympia Washington last Wednesday at the nest.
The falcons swept the competition away with a 67-36 win. The falcons were on there A game knowing they needed this win to get a spot in state. "It feels really good because it was my last home game ever" says senior Mallory Williams. "We secured he legacy of my four years never losing on our home court" says Williams. The class of 2019 girls basketball has never lost a home game ever with a record of 32-0 on there home court.
"We played really well as a team. We did the job coming together and sharing the ball" says junior Meri Dunford. The team did an amazing job on sharing the ball and getting the extra pass to their teammates. "I think that this year we have a chance to go all the way" says Dunford.
The falcons will be looking forward to there next game to play against some good competition and move towards their goal of becoming state champions.