Wrestling Finishes With Home Win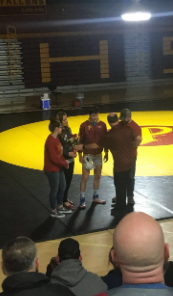 Hang on for a minute...we're trying to find some more stories you might like.
The Prairie High School Wrestling team finished out their season with a win against the Fort Vancouver on Thursday night. Though they got off to a slow start, the Falcons picked it up and won by a large margin of 63-3.
The duel started with the lightweight competitors, which for Prairie included two freshman. The first three matches all went to third round, with Prairie garnering two wins. From there, the Falcons ramped up their efforts, going undefeated throughout the rest of night.
Thursday was also the Senior Night for the wrestling program, with multiple seniors being honored for their contributions to the team. Among them was 4-year wrestler and team captain Brayden Sofianos. Sofianos, who is known by his friends and family as "Sof", won his match by pinfall with 5 seconds left in the second round. Winning is no stranger to Sof, as he had lost no matches at Prairie his entire senior season, gaining him a first team All-League nod.
Having been in the program for four years, Sofianos says it was nostalgic to finally have his senior night. He remembered only watching the celebrations as an underclassmen, thinking it would take forever before he actually participated. He is gracious however, for his team, who has grown immensely in his time. Sof explained, "it was always a team-first mentality, and I wanted to leave a legacy." When asked what's next, he quickly responded, "Win districts, win regionals, win state." Leaving nothing to the imagination, Sofianos has his sights sets on glory.
Districts will be taking place this Saturday, February 2nd.