Falcon Gymnastics Team Flies High At Saturday's Competition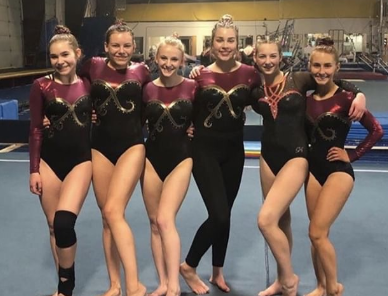 Hang on for a minute...we're trying to find some more stories you might like.
The lady Falcon Gymnastics team took on a handful of teams this weekend at there competition on Saturday February 2nd.
Junior, Jadyn Rank is a member on the gymnastics team explained, "our team did really well and we had multiple people place on all four events and in the all around." The Falcons may have had very limited numbers but that didn't stop them from all placing on all events, in which is extremely good for a team. "I did good, I landed things I normally don't, and I placed well" says Rank. The team always strives to do better each meet, which is what they all did this weekend.
For the team, they have to find there zone before each event. " I warm up my skills individually and sit and mentally prepare and think about my routine" says Junior Madison James. James's favorite highlight of the meet is "Seeing how happy everyone was when they land there skills they work on everyday is the best to see."
The Falcons will be headed to districts this Saturday to compete for the district title and a ticket to state.